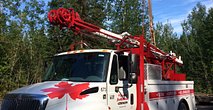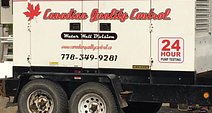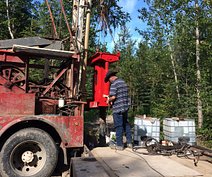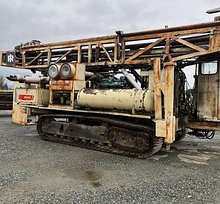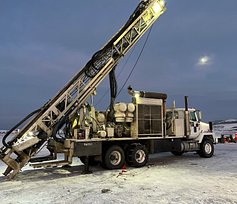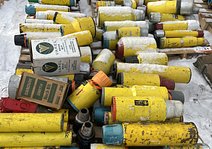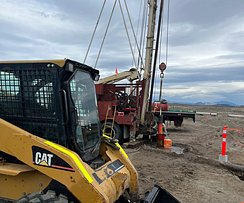 Drill Rigs
(2) TH75-E The TH75E is a multipurpose hydraulic top head drive, truck-mounted, deck engine-powered drill rig, designed primarily for reverse circulation exploration applications using either rotary or downhole hammer drilling but is also capable of coring and conventional drilling. The TH75E employs a 'dump angle derrick' for angle exploration drilling. This 'dump angle derrick' can be positioned at any angle between vertical and 45 degrees using the derrick raising cylinders. The derrick then slides downward until the base rests firmly on the ground surface. Automatic pinning secures the derrick once the angle is set. Drilling controls positioned on the derricks ensure that the operator is always close to the hole. CQC's TH75E is custom-made with an upgraded 90,000lbs rated Derrick and 70,000lbs pull-back as well as 400psi -1070cfm compressor and having depth capabilities of 2000 feet.
(2) TH60 Ingersoll Rand The TH60 water well drill rig is a truck engine/PTO for DTH, rotary air, and mud drilling with a pullback capacity of (70,000 lbf), and pulldown capacity of (30,000 lbf)The drill is designed for water well and other applications requiring air or mud rotary and down hole hammer drilling methods. It is suitable for drilling (5 to 12 in) holes but can drill up to (20 in) and handle up to (19 in) diameter casing. Head Travel: 27 ft. 1070 CFM 350 PSI Compressor and having depth capabilities of 2000 feet.
(1) DM-45 Ingersoll Rand The DM45 (Blast Hole Drill)a crawler-mounted, hydraulic tophead-drive rig that is suitable for a variety of multi-pass rotary and DTH drilling applications. Featuring a 30 ft (9.1 m) drill pipe change and a standard 5-rod carousel. With one rod under the rotary head, these units have a total clean depth capacity of 175 ft (53.3 m). Pulldown of up to 45,000. Utilizing a V12 diesel engine to drive the air compressor and hydraulic system. The powerful rotary tricone and DTH hammer drills deliver a hole diameter of 5 ½" – 12" and can achieve a clean hole depth of 27.5 ft (8.4 m) in single-pass applications or depths of up to 175 ft (53.3 m) for multi-pass applications.
(3) 22W Bucyrus Cable Tool Drilling Depths of 1200 feet – Hole Diameters 4"-24" Bailer Line Speed 1050 feet/min, Drill Line Speed 600/min.
(1) 20 W Bucyrus Cable Tool Drilling Depths of 600 feet – Hole Diameters 4"-10" Bailer Line Speed 890 feet/min, Drill Line Speed 600/min.
(1) Falling 1500 (Mud Rotary) Drill Depth 1200 feet – Hole Diameter 4"- 16" - Mud Pump 6X6 Gardner Denver
Specialty Tools
(2) Hydraulic Pull Back Cylinders (Casing Bowls Pullers) 4"– 36" Casing Diameters, Capacities – 40 Tons – 80 Tons – 800 Tons,
(2) Portable Hydraulic Power Pack 3 Phase 4" Base Plates, With Casing Bowls for 6", 8", 10", 12", 16" 20"and 24"
(3) CG 550 Rugged Series Grout Pump (Tremie/Water Well Decommissioning) G-550 Rugged series includes both skid mounted grout plant. This units feature a 45-gallon (170 liters) mixing tank, a large 30 Gallon (113 litres)
(1) Skid Steer Pump Hoist for extremely tight work areas 22 feet of derrick and 12,000 lbs lift capacity.
Pump Testing / Dewatering Equipment
Pump Testing (Dewatering Pumps and Drop Pipe
Pumps .5 – 1600 GPM Capacities
Submersible Motors .5 HP to 200 HP and greater
Whisper Watt Generators (Single Phase/3 Phase) Units available (25, 80, 125 KVA)
Light Plants 25 KVA
Water Well/Bore Hole Inspection Equipment
200/1000 Foot Water Well Inspection Camera (Recording Capacity in Color)
DRILLING- EQUIPMENT Always in the Hole for you